Welcome to Affordable Signs & Neon
You Imagine We Create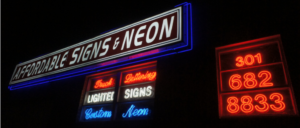 We at Affordable Signs & Neon are passionately dedicated to the sign and graphics industry. Maintaining our high standards of customer satisfaction is the foundation of who we are and what we provide. From initial consultation to sign delivery and installation, we are committed to exceeding every customer's expectations.
Signs offer endless opportunities to advertise your business, products, and services to a steady stream of potential customers. Your success hinges on displaying dynamic signs with the right message placed at it's best location. Making well-informed sign design and fabrication choices can be an overwhelming task. Our mission is to make the process easy while providing the most personal, professional and informative service possible.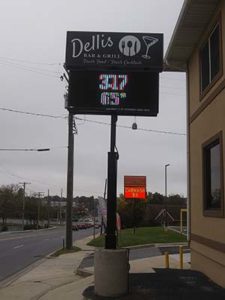 Rely on Affordable Signs & Neon to creatively and expertly design a LED reader board sign to maximally promote your business and withstand the harshest weather conditions and environments.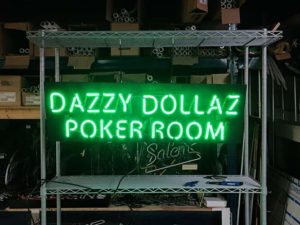 Neon art, whether it be abstract, images, lettering, or accent lighting, grabs your attention, makes a statement, creates special effects, and evokes festive moods.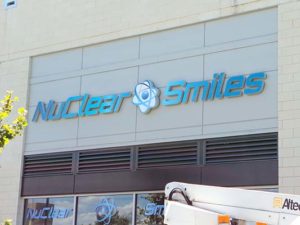 Affordable Signs & Neon is your source for all illuminated signs for your business, church or organization. Contact us today to learn more about our many illuminated sign options.
Managing All Your Sign Needs Since 1976
LED Signs are our speciality – we specialize in the design, installation, and training for LED signs and message centers. 
We work with our customers to streamline sign projects that don't just deliver on customer satisfaction, but also delivers on time – crucial to success in a highly competitive market where every day counts.
Our team offers the most innovative design solutions for your business or home. From custom logo design to custom neon signs, we offer a complete sign solution package for you.
SIGN AND LOGO DESIGN
Let our experience and design expertise propel your ideas to reality. We create custom sign solutions based on your specific needs, location and budget.
PROJECT MANAGEMENT
We manage your entire sign project from idea to installation. We make sure your goals are met during all phases of sign production.
SIGN INSTALLATION
Sign installation requires experienced technicians as well as specialized equipment. Our expert installers ensure that your signs are safely installed, while treating you and your property with respect.
SIGN PERMITS
We work with landlords and city departments to secure approval of your sign. We schedule variance meetings, if needed. Once we have secured an installation permit, we move into production of your sign.
SIGN MANUFACTURING
We offer banners, vehicle graphics, large-scale architectural signs, menu boards, illuminated and non-illuminated signs. We are trained and experienced in professional production services. We are committed to meeting and often exceeding the sign industry's demands of competitive pricing for quality products.
SIGN SITE SURVEY
To insure accuracy of many aspects of sign production and installation, it is necessary to survey your location for specific criteria. This may include: taking photographs, noting locations of power sources, and verifying measurements of your site or building.
SIGN MAINTENANCE & SIGN REPAIR
Only master sign technicians visit your site. They arrive in fully stocked sign service vehicles which are capable of reaching your sign. In most cases, your sign can be diagnosed and/or repaired on the first visit. We provide fast and friendly service and will always meet or exceed your expectations.
NEON & SIGN RESTORATION
Whether you are restoring an antique porcelain-faced neon sign, a neon spinner clock, pan faces, roof-mounted building sign, or vehicle graphics, we can restore your project to look like new again. We also offer a crane service for installation and repair.
CRANE SERVICE FOR SIGN INSTALLATION & REPAIR
We offer a full range of crane services for sign installation and sign repair. Our expert operators can install, repair, or move signs of all kinds.
Our company has bucket trucks and cranes with up to 100′ reach in our fleet of service vehicles. We also service the signs we build, service small and large retailers and national sign and maintenance companies. All neon is produced on-site and processed to the industry's highest standards on our Eurocom System. New neon as well as repairs are manufactured to meet your schedule's criteria.
"Affordable Signs & Neon in Frederick, MD has always done a superb job for my business. From banners to vehicle lettering, they always get the job done and exceed our expectations. Thanks guys!
"
We're always interested in new projects, big or small. Please don't hesitate to get in touch with us regarding your project.

Call (301) 682-5000 or  Request a Quote.