Affordable Signs & Neon is your expert sign company serving all of Frederick County, Montgomery County, Baltimore County, Howard County, Carroll County & Washington County Maryland, and your source for post and panel signs. 
Post & panel (P&P) signs are constructed of wood, aluminum, plastic, and/or steel, making them durable. Extruded aluminum components give these signs many design and installation options. They are easily installed and come in a wide variety of shapes or can be custom cut. They can be used as a form of way-finding, or to promote a business without the need of a monument or illuminated channel letters.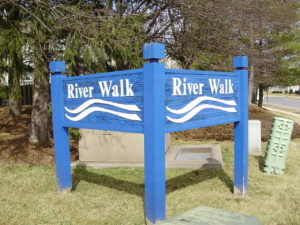 P&Panel Signs serve many purposes and are an economical and versatile sign solution. Single or dual sided signs between two posts. They can be as large or as tall as you want, and you can configure them to your liking. Most P&P signs utilize vinyl lettering but there are other options, for example 3-D letters add a dimensional look to P&P signs that vinyl lettering just can't accomplish. Although generally not internally illuminated, they can be powered from the ground or other sources of light. Flood lights can be used as an external source of light.
Contact us today to to learn more about all of the ways Affordable Signs & Neon can help your business!